Two, Three, or Five Days-A-Week
Beginning The Journey
The toddler is just learning to communicate verbally. They develop the ability to share feelings and negotiate with peers in a group setting. Teachers create an atmosphere where toddlers and twos are capable individuals. Their opinions, actions, and thoughts are respected and valued. Emphasis is on modeling appropriate language and behavior. This creates a respectful environment. Trust, self-esteem, autonomy, communication, and teamwork develope.
Toddlers
The Toddler classroom is designed to explore the surroundings. Children fine-tune their motor skills, developing confidence in themselves. Teachers provide the interplay toddlers need and crave at this age. They encourage them to walk, explore and use their sensory skills. Teachers offer a wide variety of hands-on activities — both Individual and group. Toddler classroom ratios are small, giving individual teacher-to-child time.  Through group play, children develop their social skills. With a  lower group ratio, your child will get one on one care.
"In Reggio, the process of learning involves making connections and relationships between feelings, ideas, words, and actions." – John Nimmo
Twos
Twos teachers build on our programs. They use hundreds of different learning activities — language, communication, cognitive skills, creativity, gross and fine motor skills, critical thinking skills. Personal and social skills all work into the children's day.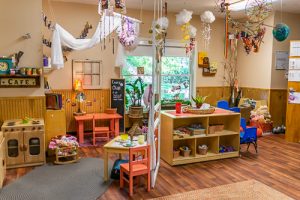 In our twos classroom, there is music, art, dancing, stories, and games. We stretch our muscles and imaginations. Inside, on the Playscape, or in Stonebrook Forest we are learning. Naps are also part of the day.
Potty training is an integral part of the life of two-year-olds. It is mixed into each classroom schedule. Teachers work with each child to build an understanding of their bodies. And how to listen to the needs of their bodies. Teachers partner with parents! Hand washing happens throughout the day. An important self-help skill.
Daily reports are available for parents at pick-up time. Of course, there is always an artistic masterpiece for your refrigerator, walls, or workspace!
Portfolios
Each child has their own portfolio. It is updated by teachers. The portfolio is a digest. Pictures, quotes, artwork, writing samples. Milestones of growth and development are noted. The portfolio follows each child as they move up to older classrooms. At the end of your family's Stonebrook Day School experience, the portfolio is yours to keep. A record of your child's progress through the years at Stonebrook.
Classroom Blogs
Stonebrook families have a private secure web site. There they can review weekly classroom blogs. Photos and videos of the children with teacher comment are featured.